Governance
Leadership and Governance of the Trust
The vision of The Harmony Trust is that it will be known for best practice in educational excellence.
There is a strong moral purpose to do what is best for children and families and this underpins our ethos. We aim to raise aspirations and attainment of all children, developing pupils with high self-esteem and responsibility.
The Trust is committed to the delivery of high quality education delivered by excellent staff, in a caring, supportive, learning environment.
The legal Governing Body of all academies in the Harmony Trust is the Trust Board itself.
Members of the Trust are directly responsible for appointing the Trustees.
The Trust Board maintains direct responsibility and accountability directly to the Secretary of State and the Department for Education in London.
Members of the Harmony Trust
Mr Dominic Wall Mr Paul Makin Mrs Marian Simmons Mr Kit Thorne
Oldham Hulme Grammar School
The Harmony Trust Board of Trustees
Mr Paul Makin Mrs Marian Simmons Mr Graham McGuffie
Mr Sajen Bakht Mr Antony Hughes Ms Sara Bashir
Ms Ashley Forbes Mr Norman Hole
The Members and the Trust Board have 2 committees & a forum structure (detailed below)
the Finance and Audit & Risk committee
the Standards committee and Pay & Performance committeeEach individual academy has an advocate on the Board, who knows their academy very well.
Academy Staff Forum
Academy Parents Forum
Academy Pupil Forum / Council
The Board of Trustees is supported by the Central Leadership Team.
Each Academy has a Principal who is supported by a Senior and Middle Leadership Team.
The Chief Executive who is supported by the Director of Specialist Intervention & Professional Development, Director of Finance, Director of Business Management, along with their own teams
The Parent, Pupil & Staff Forums
These groups are made up of representatives who give key stakeholders of the academy a forum to discuss issues, voice ideas to support the academy, and share successes and areas for development.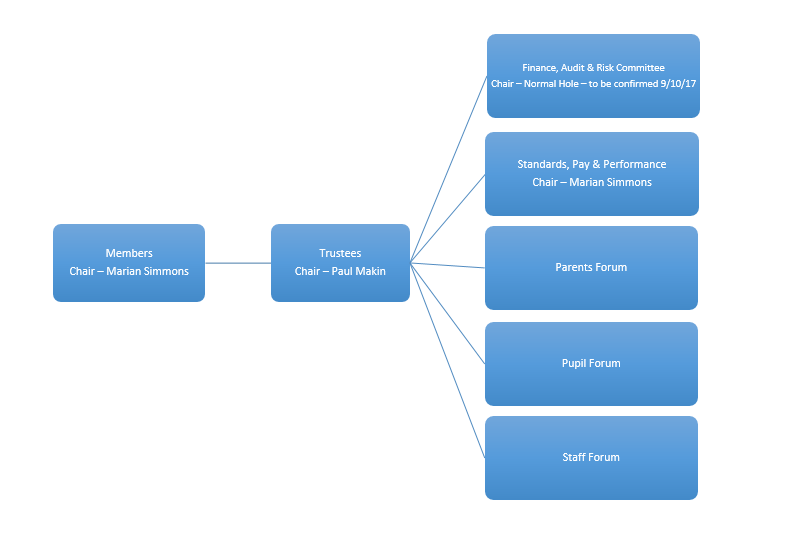 Link to further governance information for the Trust
Link to Committee information & Attendance
Link to Minutes of Trustee Meetings 2016/17
Link to key information / documentation e.g. Register of Business Interests, Articles of Association & Funding Agreements
Do you need this content in another language?